Emulex LightPulse LP1150 PCI-X 2.0 Host Bus Adapter - 1 x LC - PCI-X - 4.25Gbps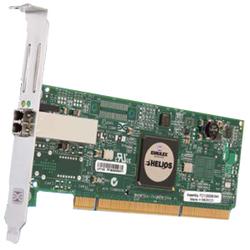 The Emulex LP1150 host bus adapter offers highly - integrated 4Gb/s Fiber Channel connectivity solutions for Storage Area Networks. The LP1150 HBA delivers exceptional performance through the use of the Emulex Helios Fiber Channel I/O controller. The high - performance Helios controller combines ARM11 microprocessors, 1Gig/2Gig/4Gig SERDES, buffer memory, and an advanced Fiber Channel protocol engine into a single module. The LP1150 HBA uses a low - profile PCI card form factor that adapts to either standard height or low profile server slots.The Emulex LightPulse HBA architecture performs transactions at the frame level, making it ideal for mixed - workload environments such as simultaneous tape and disk operations on the same HBA. This unique architecture also produces the highest efficiency in mixed speed networks.The LP1150 builds upon the Emulex software architecture that enables the independence of an operating system's device driver from the underlying HBA platform. This exclusive HBA architecture is the foundation for proven reductions in the total cost of SAN ownership. The Emulex LP1150 HBA architecture provides a platform that is fully software - compatible with previous generations of market leading Emulex HBAs. This enables customers to effortlessly migrate to new Emulex HBAs, while also allowing for simplified integration into existing Storage Area Networks.The Emulex centralized HBA management suite, HBAnyware reduces both total cost of ownership and server downtime. This feature is available on the LP1150 as well as previous generations of Emulex HBAs. Complementing the Emulex software architecture, HBAnyware enables sophisticated management capabilities such as remote firmware upgrades from a single console anywhere in the SAN. Emulex LP1150 HBAs feature specialized hardware, which yields superior performance in SANs and provides best - in - class server CPU offload. Emulex HBA architecture also delivers low latency and high throughput in switched - fabric and arbitrated - loop topologies, and in clustered environments. Product Description Emulex LightPulse LP1150-F4 - network adapter Device Type: Network adapter Form Factor: Plug-in card Interface (Bus) Type: PCI-X / 266 MHz PCI Specification Revision: PCI-X 2.0 Bus Voltage: Universal (3.3 V & 5.0 V) Dimensions (WxDxH): 6.6 in x 2.5 in Cabling Type: Fiber optic Data Link Protocol: 4Gb Fibre Channel Data Transfer Rate: 4.25 Gbps System Requirements: Novell NetWare, Linux, Microsoft Windows 2000, Microsoft Windows Server 2003 ALTERNATE ITEM #: LP1150-F4 UPC: 0706947009426
Do you need the Emulex LightPulse LP1150 PCI-X 2.0 Host Bus Adapter - 1 x LC - PCI-X - 4.25Gbps from Buy.com?

Click on our link above to get more product information. You will find a great price and assist us, allowing us to add to our many resources for entrepreneurs so we can help entrepreneurs just like you.
Looking for more Computers Projector Network Adapters & Software products? Try the Emulex LightPulse LP9002L-F2 Fibre Channel Host Bus Adapter - 1 x LC - PCI - 2.12Gbps from EMULEX. Another product to consider is the EMULEX Emulex LightPulse LPe11002 Multi-mode PCI Express Host Bus Adapter - 2 x LC - PCI Express - 4.25Gbps.
If this product isn't what you were searching for, we can probably still assist you. Just choose a product category from the Computers directory below to find more great Buy.com deals, including available Buy.com discounts.
Computers