Wasp Bar Code Nest Wand Business Edition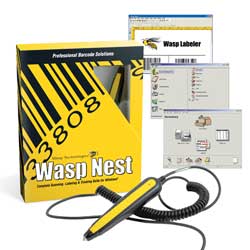 Wasp Nest Pen Barcode Scanner Suite - Wasp Nest Suite is a complete starter solution designed for home use and small office productivity needs. This value packed suit comes with a lite version of features from our professional inventory control (MobileInventory) and asset tracking (MobileAsset) solutions. In addition to basic inventory tracking and asset tracking ability, Wasp Nest comes integrated with a full version of Wasp Labeler, which allows you to create and print asset tags and barcode labels in minutes. Wasp Nest comes with four different barcode scanner options to provide flexibility for your individual needs. All packages come complete with the required scanner connectivity cables. Barcode scanning options are as follows: (note: specific scanner depends on kit selected) Laser Scanner CCD LR Scanner CCD Scanner Wand/Pen Scanner Wasp Nest also includes The Auto ID Book , a complete guide to barcoding applications and technologies. Wasp WWR 2900 Pen Style Scanner - Whether you need quick access to data from an invoice, membership card, or any barcoded material, the Wasp WWR 2900 is the perfect tool for repetitive data entry. The pen-style barcode scanner is a reliable, cost-effective way to read barcodes. Scanned data appears on your screen as if you typed it from your keyboard. Scan into any DOS or Windows application, and it takes just minutes to set up. Increase your productivity and reduce costly data entry errors with the easy to use WWR 2900 pen barcode scanner. For more features and specs, visit the WWR 2900 product page. Wasp Barcode Labeler v6 - Wasp Barcode Labeler v6 software is the best selling label design software in the world! Labeler v6 makes creating barcode labels a snap. Manually input or easily connect to an external data source to obtain your label data. With the Labeler v6 wizard interface, you can quickly create inventory, asset, and many other labels. Labeler v6 now includes RSS and ISBN barcode symbologies, and support custom fields from Quickbooks accounting software. For more features and specs, visit the Wasp Labeler product page. Inventory Tracking Features: The inventory tracking features in Wasp Nest will allow you to monitor what inventory you have, the quantity on hand, and where it's located. You can also perform periodic audits of your inventory to help ensure accuracy of your inventory. If you require any of the following features, you will need a full version of MobileInventory: Check-in/Check-out Option of using a mobile device Multiple PC users Track by serial # Role based security Multiple sites Importing/exporting Additional inventory management reports Asset Tracking Features: The asset tracking features in Wasp Nest will allow you to track what assets you company owns, and well as what location your assets are currently in. You can also perform periodic audits of your assets to help
Do you need the Wasp Bar Code Nest Wand Business Edition?

Click on our link above to find a great deal. You will find a great price and assist us, allowing us to add to our many resources for entrepreneurs so we can help entrepreneurs just like you.
Looking for more Computers Barcode Readers, Verifiers & Linear Imagers products? Try the Wasp CountIt with WDT2200 Laser Combo Kit from INFORMATICS.
If this product isn't what you were searching for, we can probably still assist you. Just browse the appropriate product category in our Computers directory below to find more great deals, along with available coupon codes.
Computers