Wasp MobileInventory Bundle w/WDT2200 CCD PDT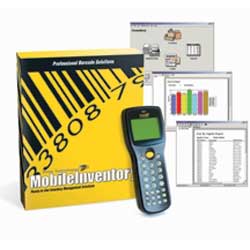 Track Your Inventory with the WDT2200 Portable Data Collector - MobileInventory is an easy to use inventory control application that enables you to track and analyze inventory data on both your personal computer and a mobile Wasp Portable Data Terminal WDT2200. The combo pack includes MobileInventory inventory control software, and a WDT2200 portable data collector with built-in, long range CCD bar code scanner. Desktop Features The Power and Adaptability to Meet Your Needs Track your inventory by Site, Location, Serial Number, Purchase Order Number, Supplier Code, Date Code, Lot, Pallet, and Customer Customize the look and feel of the user interface Input user-defined text, numeric, and date information for Customers, Items, Locations, Manufacturers, and Suppliers Build, customize and print labels and bar codes with the integrated Wasp Labeler software Fast and Easy to Use Navigating is simple using MobileInventory s user-friendly interface Extensive help system shows you the features and use of each screen Import and Export Customers, Inventory, Items, Locations, Manufacturers, and Suppliers with the easy to use Wizard Access Information Instantly and Securely Find critical data quickly using MobileInventory's advanced find feature MobileInventory utilizes Microsoft SQL ServerTM for optimal speed Over 40 pre-built reports Protect your inventory data with user-level security Keep track of who borrowed your inventory with check-in/check-out Handheld Features Supports Palm OS 3.5 devices and Wasp Portable Data Terminals Divide the work with multiple handheld devices. MobileInventory comes with one handheld device license. Additional handheld device licenses are available Manage Your Inventory Add, Remove, Move, Adjust, Audit and retrieve Detail information about your inventory Move inventory from site-to-site in seconds Search for inventory by item number Improve Inventory Counts Automatically verify item numbers to ensure accuracy Accurately perform inventory audits and cycle counts with MobileInventory s Audit feature Ensures that you count the right inventory with Location, Serial Number, Date Code, Pallet and Lot tracking data Efficient and Flexible Input data via integrated bar code scanner or keypad Mix multiple mobile devices of different types to fit your needs Perform inventory transactions on the spot without guesswork Robust Synchronization Cost effective batch synchronization Safely verify transactions before applying them to your database Wasp WDT2200 Features 10-12 hours battery life Integrated scan engine 2.5 MB RAM Same operating system (Palm OS) 8 by 21 line, backlit display 24-key keypad IP 54 compliant Shock resistant up to 1.8 meters (6 feet) PC System Requirements Windows 2000, XP, Server 2003 200MHz or higher processor 128 MB RAM minimum 350 MB disk space minimu
Looking for the best deal on the the Wasp MobileInventory Bundle w/WDT2200 CCD PDT?

Click on our link above to get complete product information, including costs. You can purchase the product at the best price and simultaneously assist this site, helping to offset our costs associated with providing free resources for entrepreneurs.
Looking for more Computers Data Collection Terminals & Components products? Try the Wasp MobileInventory Bundle w/WDT2200 Laser PDT from INFORMATICS. Another product to consider is the WASP TECHNOLOGIES WASP MOBILEINVENTORY LITE COMBO WITH SPT1800.
If this product isn't what you were searching for, we can probably still assist you. Just choose a product category from the Computers directory below to find the Buy.com products you need,as well as take advantage of active coupon codes.
Computers