VSOURCESAFE 2005 WIN32 ENGLISH CD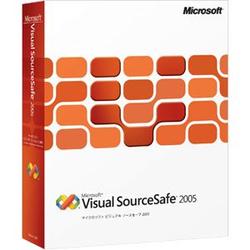 Visual SourceSafe is the ideal version control system for any development team using Microsoft Visual Studio .NET. Historically, problems within the team development environment stem from the inability to work comfortably in a setting sensitive to their projects and source code. While every project requires an adequate level of software management, the costs and overhead associated with file-based version control often outweigh the benefits. By providing project-oriented software management, Visual SourceSafe enables teams to develop with the confidence that their projects and files will be protected. It's simple enough to use right out of the box, and it's integrated with the development environment developers already work in.Integrated features of Visual SourceSafe enable developers to access the full power of team development features - all from within the familiar Visual Studio environment they already use. Many features trigger automatically, such as when a file is about to be changed, providing a safety net for team members and ensuring the protection of the project.Visual SourceSafe also provides an extensive feature set designed to save time and money through reliable source code control. It enables development teams to automatically protect and track their most valuable source code, documentation, binaries, and all other file types as they change throughout the software life cycle. For example, check in and check out file locking securely protects files from accidental overwrite by preventing more than one user from modifying the same file at once. Product Description Microsoft Visual SourceSafe 2005 - complete package Category: Development tools Subcategory: Development tools - utilities / components & libraries License Type: Complete package License Qty: 1 user License Pricing: Standard Language(s): English Platform: Windows Distribution Media: CD-ROM Package Type: Retail OS Required: Microsoft Windows 2000, Microsoft Windows XP, Microsoft Windows NT 4.0 SP6 or later, Microsoft Windows Server 2003 ALTERNATE ITEM #: 324-00497 UPC: 0882224058872
Do you need the VSOURCESAFE 2005 WIN32 ENGLISH CD?

Click on our link above to get more product information. You'll get a great deal and help a good cause, allowing us to add to our many resources for entrepreneurs so we can help entrepreneurs just like you.
If this product isn't what you were searching for, we can probably still assist you. Just choose a product category from the Software list below to find more great deals, including available discounts.
Software