WASP WPA206 PORTABLE, LASER, USB Cable & Power Supply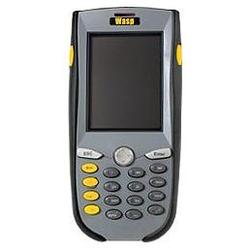 Wasp WPA206 Portable Data Terminal - Portable Data Terminals and Portable Data Terminals that take productivity to the next level. Driven by the familiar Windows CE operating system, the WPA206 is the perfect solution for anyone wanting to make real world data transactions where they really need it - whether in the field, warehouse, or in the office tracking assets. The WPA206 incorporates a built-in barcode scanner for industry standard barcodes, a 19-key keypad, and a color touch screen. Data collection is simple, fast, visually compelling, and accurate. Because working conditions aren't always as nice as they are in the office, the rugged WPA206 can withstand 4 foot drops to concrete and is sealed to IP54 standards against water and dust. The rugged housing protects the terminal against the harsh working environments often encountered by mobile users. The double-cell battery pack provides long hours of mobile operation, uncompromised productivity, and minimal down time. The WPA206 also comes equipped with both a PCMCIA Type II slot and a CF Type I/Type II slot for WWAN, WWLAN, memory, and more. Never worry about expansion with the WPA. Wasp WPA206 Specifications Memory/Operating System Operating System Microsoft Windows CE.NET 4.2 Browser Internet Explorer 4.0 CPU Intel StrongARM 206MHz SDRAM 64 MB Speaker 8 ohm speaker sound transducer Volume controllable by software LED Indicator dual color (green/red) Display TFT Color LCD 240 (W) x 320 (L) pixels Electroluminiscent backlight Touchscreen Keypad 19 hard keys including alphanumeric keypad, ESC, ENT, FUNC, Backspace, and Cursor keys. 2 side key scanner triggers Input Devices Touch screen, stylus, keypad, full alphanumeric software keyboard, and bar code scanner Power Management Main Battery: Rechargeable Li-ion battery pack @ 7.4V, 1880 mAH Li-ion recharge: 3 hours in cradle or charging cable Operating Time: Over 10 hours Power Input: 12 VDC/2A via cable Consumption Standby: 100 mA @ 8V Bar Code Scanner Scanner: 650 10 nm visible laser diode Scan rate: 39 3 scans/sec. Contrast: 25% absolute dark/light reflectance Scan Angle 53 nominal Barcode Reading: UPC-A/E, EAN-8/13, Codabar, Code 39, Code 39 full ASCI, Code 93, Code 32, Interleaved & Std. 2 of 5, EAN 128, Code 11, Delta, MSI/Plessey, Code 128, Toshiba Resolution: Depth of Field 5.0 mils: 2 - 5.2 7.5 mils: 1 - 7-8 10.0 mils: 1.8 - 10 15.0 mils: 1.9 - 13 20.0 mils: * - 20 40.0 mils: * - 25 55.0 mils: * - 30 * - depending on symbol width Physical and Environmental IP rating: IP54 Dimensions Length: 7.28 (185mm) Width: 3.49 (87.6mm) Height: 1.70 (43.3mm) Weight 442 g with battery pack Temperature Operation: 23 F to 122 F (-5 C to 50 C) Storage: -4 F to 140 F (-20 C to 60 C) Humidity 5 to 95% RH non-condensing PC System Requirements Windows 98SE, 2000, ME, XP or NT 200MHz or higher proces
Shopping for the WASP WPA206 PORTABLE, LASER, USB Cable & Power Supply?

Click on our link above to get complete product information, including costs. Our promo code link gives you a great price and you help us to build up this site, making it possible for us to assist more entrepreneurs.
Looking for more Computers Data Collection Terminals & Components products? Try the Wasp MobileInventory Bundle w/WDT2200 CCD PDT from INFORMATICS. Another product to consider is the INFORMATICS Wasp MobileInventory Bundle w/WDT2200 Laser PDT.
Didn't find exactly what you were looking for? Then, simply choose a product category from the Computers directory below to view more great deals, including available discounts.
Computers