HDMI Cat5E Cat6 Extender - 120M 360Ft Extension v1.3 1080i 1080p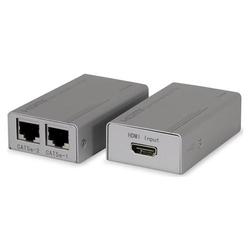 Extend your high definition capability with an HDMI extender.This device will allow you to extend your HDMI connection using CAT 5e and CAT 6 cables as a transmission medium.By using an extender, you can alter the length of your cable in an affordable way.CAT 5e or CAT 6 cables are discreet and easy to hide in a house and even behind walls.The length of HDMI cable is fixed and unchangeable after it is produced.Because the HDMI connector can only be soldered or terminated by professional worker in factory, the users can not reduce or increase by themselves.However CAT5E/6 cables are available everywhere and be processed easily by the user or installer.With this device you can extend the signal by up to up to 60 meters 1080p and 120 meters for 1080i.For general HDMI cables, cables must be customized when the length over 10 meters.Features: Sends 720p, 1080i, and XGA (1024x768) signals over 200 feet (60 meters), 1080p/60 and 1920x1200 signals over 100 feet (30 meters) Utilization of STP - Shielded. Twisted Pair cabling provides added protection from outside interference and increases overall signal transmission distances. One pair as a full functional module, no need of setting. Use CAT-5E/6 cable to substitute HDMI cable to achieve long distance transmission. Follow the standard of IEEE-568B. Transmission distance reaches up to 60 meters for 1080p and 120 meters for 1080i. Auto-adjustment of feedback, equalization and amplify. Compact size. Signaling rates up to 2.25Gbits in support of 1080P display. Each port supports HDMI or DVI inputs. HDCP compliant.Specifications: Signal Inputs/Output: Input Video Signal:0.5 -1.0 volts p-p. Input DDC Signal:5 volts p-p (TTL). Maximum Single Link Range:1920X1200, 1080P. Output Video:HDMI 1.3. Video format supported: DTV/HDTV:1080P/1080i/720P/576P/480P/576i/480i. Transmission distance: CAT-6 cable:50M for1080p. CAT-6 cable:100M for480p. Resolutions(HDTV): Interlaced(50&60Hz):480i,576i,1080i. Progressive(50&60Hz):480p,576p,720p,1080p. Mechanical:Power Consumption:5Watts (max.) Environmental: Operating Temperature:0 to +70. Operating Humidity:10% to 85 % RH (no condensation). Storage Temperature:-10 to +80. Storage Humidity:5% to 95 % RH (no condensation). Power Requirement: External Power Supply:5V [email protected] Regulatory Approvals: Converter Unit:FCC,CE,UL. Power Supply:UL,CE,FCC. .
Want to buy the HDMI Cat5E Cat6 Extender - 120M 360Ft Extension v1.3 1080i 1080p?

Click on our link above and find discount and pricing information. You'll get a great deal and help a good cause, allowing us to add to our many resources for small business owners so we can help grow the small business economy.
Didn't find exactly what you were looking for? Then, simply browse the appropriate product category in our Electronics list below to find the Buy.com products you need, including available discounts.
Electronics