Harman Kardon AVR 445 7.1-Channel A/V Receiver (Recertified)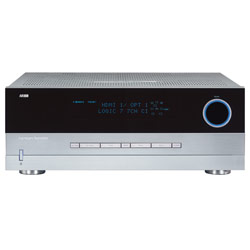 Balance The Sound To Your Room - If you're technologically-challenged, or simply can't wait to get your AVR445 A/V receiver up and running, then Harman Kardon's EzSet/EQ feature (built into the eight-device, two-line display remote control) was developed especially for you. Using a compact, high-precision microphone (included with the receiver) and built-in test and control circuitry with accuracy equaling expensive laboratory equipment, EzSet/EQ not only configures your system for the proper speaker settings, time delays, and crossover frequencies; but also uses a parametric equalizer to optimize the receiver's output performance to match your listening room's sonic signature. Parametric equalization differs from--and is more sophisicated than--traditional graphic equalization. Based on measurement and analysis of three sonic parameters--frequency, amplitude, and bandwidth--parametric equalization results in a superior set of adjustments to cancel out the sonically-damaging effects of a room's architecture and furnishings. Harman Kardon designs receivers to work with your individual listening environment, not against it. Multichannel Sound From Analog Sources - Versatile and multifeatured, Harman Kardon's AV445 7.1-Channel A/V Receiver incorporates a wide range of listening options to match your every need. In addition to Dolby Digital EX and DTS-ES 6.1 decoding for digital sources, a broad choice of analog surround modes are available for use with sources such as CD, VCR, TV broadcasts, and the AVR445's own FM/AM tuner. Along with Dolby Pro Logic IIx decoding technology, the AVR445 boasts Harman International's exclusive Logic 7 process to create a wider sound environment with more defined fly-overs and pans, where the surround sound transitions from the speakers on one side to the speakers on the other side. Proprietary digital algorithms are used to create a more cohesive and enveloping sound field from the tens of thousands of currently available analog matrix soundtracks. Not only is Logic 7 capable of resolving either five or seven channels from a two-channel source; but it also increases the accuracy with which sounds are directed to the center and surround channels, for more precise reproduction of the original soundtrack. Connect To The Future - For the ultimate in flexibility, the AVR445 features two HDMI inputs and three, assignable, HDTV-compatible component video and five S-Video inputs for connecting video devices. The AVR445 converts composite and S-video to component for single video connections. There are additional audio inputs; and with all of its video inputs, the AVR445 is capable of handling all the latest A/V sources. Coax and optical digital audio inputs/outputs are also available for direct connection to digital recorders. This bounty of connections, plus 7.1-channel direct audio inputs with bass management and bi-directional RS-232 integrated system control port make the AVR445 virutally future-proof, wi
Do you need the Harman Kardon AVR 445 7.1-Channel A/V Receiver (Recertified)?

Click on our link above to get more product information. You'll get a great deal and help a good cause, allowing us to add to our many resources for small business owners so we can help grow the small business economy.
Looking for more Electronics Receivers products? Try the Harman Kardon AVR347 7.1 A/V Home Receiver w/ HDMI (Recertified) from HARMAN / KARDON. Another product to consider is the HARMAN / KARDON Harman Kardon HK3485 High Current Stereo Receiver (Recertified).
If this product isn't what you were searching for, we can probably still assist you. Just choose a product category from the Electronics list below to find the Buy.com products you need,along with available coupon codes.
Electronics