Hauppauge WINTV-HVR-2250 Dual TV Tuner/Encoder - White Box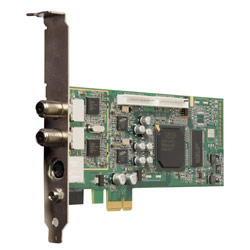 The WinTV-HVR-2250 has two tuners for watching one TV program while recording another: with the built-in dual tuners, you can either watch one channel while recording another or you can record two channels at once. Create your own personal Digital Video Recorder! Record analog cable TV shows to your PC's hard disk with our built-in high quality MPEG-2 hardware encoder. You can also record high definition digital ATSC and clear QAM digital cable TV to disk in the original digital quality. Use the WinTV-Scheduler to schedule the recordings of your favorite analog or digital TV programs. Play the recordings back to your PC screen at any time. Vista Media Center compatible: The Microsoft Media Center application supports two TV tuners. Use the Media Center scheduler to schedule your TV recordings. And WinTV-HVR-2250 has Windows Vista Premium certification. Clear QAM TV channels are unencrypted digital TV channels broadcast by your local cable operator. Many cable operators in North America are transmitting the high definition ATSC channels on their cable networks. They also broadcast the basic cable channels in using clear QAM. You can use the WinTV v6 application to watch and record these channels. Note: currently Media Center cannot be used for clear QAM digital TV. ATSC digital TV is the over-the-air HD digital TV for North America. ATSC digital TV typically requires an antenna for reception, and is currently broadcast in 200 cities, with over 1500 TV stations. ATSC broadcasts range in resolution from standard definition up to the high definition 1080i format. The WinTV-HVR can be used to watch and record all ATSC formats. Note: ATSC digital TV is NOT digital cable TV or digital satellite TV. ATSC is digital over-the-air TV. ATSC digital TV brings you sharper pictures and enriches your PC s multimedia experience with near CD quality sound. WinTV-HVR s ATSC digital TV tuner adds great features to your TV viewing: high definition TV reception, automatic identification of channel names plus records high-definition digital TV programs to your PC s hard disk in an MPEG-2 format without any loss in quality. Technically speaking: WinTV-HVR-2250 is a PCI Express X1 board based on the NXP 7164 bus interface chip. The WinTV-HVR-2250 contains two tuners with a built-in TV splitter. There is one cable TV or TV antenna connector which is split, providing a video source for both tuners. For ATSC and QAM digital TV, all 18 ATSC formats including 1080i can be watched or recorded to disk as a MPEG-2 Program Stream. The NXP 7164 contains two highly integrated MPEG-1/2 hardware encoders for recording analog cable TV to disk. The playback of the recorded ATSC and QAM digital TV and MPEG-2 encoded analog programs are done through a software MPEG-2 player.
Want to buy the Hauppauge WINTV-HVR-2250 Dual TV Tuner/Encoder - White Box?

Click on our link above to get more product information. Get the product you want at a excellent price and give us some help, making it possible for us to assist more entrepreneurs.
Looking for more Computers TV/Audio Tuners products? Try the Hauppauge WinTV-HVR-850 TV Tuner - USB - ATSC - Retail from HAUPPAUGE. Another product to consider is the HAUPPAUGE Hauppauge WinTV-HVR-950Q Hybrid TV Stick Video Recorder.
Didn't find exactly what you were looking for? Then, simply choose a product category from the Computers list below to view more great deals, including available discounts.
Computers