Hauppauge WinTV-HVR-950 Hybrid Video Recorder - USB - ATSC, NTSC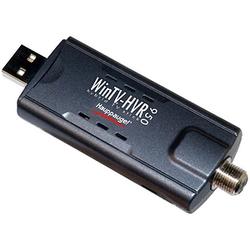 WinTV-HVR-950 brings over-the-air high definition ATSC digital TV plus analog cable TV to your PC or laptop! Watch and record TV, in a window or full screen. Use the WinTV-Scheduler to record your favorite analog or digital TV shows using high quality MPEG-2. Play your TV recordings back to your screen any time.ATSC high definition digital TV brings you sharper TV with great sound. Watch high definition digital TV at up to 1080i on your PC screen. WinTV-HVR-950's ATSC digital TV receiver also has automatic identification of channel names plus will record high-definition digital TV programs to your PC's hard disk in an MPEG-2 format without losing quality.ATSC digital TV is free-to-air digital TV for North America. ATSC digital TV typically requires an antenna for reception, and is currently broadcast in 200 cities, with over 1500 TV stations. Note: ATSC digital TV is NOT digital cable TV or digital satellite TV. The WinTV-HVR-950 cannot receive digital cable TV or digital satellite TV.You're prepared for the future. If you live in an area where you can't currently receive ATSC digital TV, the WinTV-HVR-950 can still be used to watch and record analog TV from cable TV or a TV antenna. But you're prepared for the future! When ATSC digital TV comes to your area, WinTV-HVR-950 will also receive the new digital TVchannels.WinTV-HVR-950 is easy to install. Just plug it into your PC or laptops' USB 2.0 port and connect a TV antenna (analog cable TV is also supported). In a few minutes you'll be watching analog or high definition ATSC digital TV on your PC or laptop screen. WinTV-HVR-950 includes a portable digital antenna, so you can receive digital TV while you travel! Product Description: Hauppauge WinTV HVR-950 - ATSC HDTV receiver / analog TV tuner - Hi-Speed USB Device Type: ATSC HDTV receiver / analog TV tuner - external Interface Type: Hi-Speed USB Localization: Canada Video Input: Hi-Speed USB - external Analog Video Format: NTSC Digital Video Format: MPEG-2 Audio Input Support: Standard Cables Included: 1 x USB extension cable - external OS Required: Microsoft Windows XP, Microsoft Windows XP Professional, Microsoft Windows XP Media Center Edition SP2, Microsoft Windows Vista UPC: 0785428011202
Want to buy the Hauppauge WinTV-HVR-950 Hybrid Video Recorder - USB - ATSC, NTSC?

Click on our link above to get more product information. You'll get a great deal and help a good cause, allowing us to add to our many resources for entrepreneurs so we can help entrepreneurs just like you.
Looking for more Computers Video Capture Cards & Devices products? Try the HD-SDI INPUT CARD FOR DT-V1710 MONITOR from JVC PROFESSIONAL PRODUCTS COMPANY. Another product to consider is the HAUPPAUGE IMPACTVCBVIDEOCAPTUREBOARD PCIHALF-HEIGHT-VIDEOCAPTURE.
Didn't find exactly what you were looking for? Then, simply choose a product category from the Computers list below to find more great deals, as well as take advantage of active coupon codes.
Computers