Olympus EVOLT E-420 10 Megapixel Digital SLR Camera with 14-42MM Outfit, Autofocus, Live View, Face Detection & Dust Reduction w/ Transcend 4 GB, 133x High Spee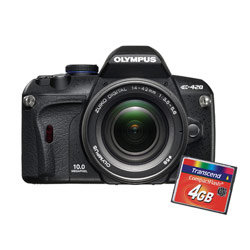 Olympus EVOLT E-420 10 Megapixel Digital SLR Camera The E-420 is the world's smallest digital SLR with all the features you need to take great pictures anywhere you go, every day. The innovative and unique Olympus Autofocus Live View function allows you to frame and focus your photos using the large 2.7-inch LCD as a viewfinder. The E-420's Scene Select Modes make you an instant expert -- or switch to manual mode to expand your creative control. This feature-rich digital SLR also sports Shadow Adjustment Technology and Face Detection, both viewable in real time on the Live View LCD. WORLD'S SMALLEST. The E-420 is small enough to fit into a purse or a jacket pocket and light enough to shoot with comfortably all day. Measuring 5.1 inches by 3.6 inches by 2.1 inches (excluding protrusions), it is the world s smallest digital SLR. And at a featherweight 13.4 ounces, only its predecessor (E-410) weighs less. AUTOFOCUS WITH LIVE VIEW. Two innovative technologies merge to create a unique digital experience. The E-420 s on-Screen Autofocus works as seamlessly as a point-and-shoot to display subjects in focus on the LCD the instant the shutter is pressed half way. And the Live View LCD, enables photographers to hold the camera away from their faces and at angles they just cannot reach by using the optical viewfinder alone. FACE DETECTION. The E-420 s Face Detection feature distinguishes between people s faces and the background. This innovative technology tracks up to eight faces within the image area and automatically focuses and optimizes exposure for sharp, brilliant portrait pictures. SHADOW ADJUSTMENT TECHNOLOGY. Shooting scenes with shadows can be tricky because of the extreme contrast between dark and bright areas. The E-420 addresses this challenge with Shadow Adjustment Technology that compensates for extreme contrast when shadow areas are underexposed and lack visible detail. This technology works automatically when using Face Detection Mode, Live View and in Scene Select Modes. DUST REDUCTION. Life moves too fast to spend time worrying about dust ruining your images. Olympus proven Dust Reduction System produces spot-free photos with the exclusive Supersonic Wave Filter . The patented ultrasonic technology vibrates to remove dust and other particles from the front of the image sensor and captures it on a special adhesive membrane every time the camera is turned on. DIGITAL IMAGE STABILIZATION. The E-420's Digital Image Stabilization, activated as a Scene Select Mode, allows high ISO sensitivity and faster shutter speeds so you can freeze the action to capture sharp, blur-free images even if you or your subject is moving. 2.7 HYPERCRYSTAL II LCD. New and Improved HyperCrystal II Technology delivers twice the contrast and be
Want to buy the EVOLT E-420 10 Megapixel Digital SLR Camera with 14-42MM Outfit, Autofocus, Live View, Face Detection & Dust Reduction w/ Transcend 4 GB, 133x High Spee?

Click on our link above to get more product information. This coupon code link activates the best pricing and you also will aid this site, allowing us to add to our many resources for entrepreneurs so we can help entrepreneurs just like you.
Looking for more Computers SLR products? Try the K20D 14 Megapixel SLR Digital Camera w/ 16-45mm lens, Shake Reduction, 2.7 High Resolution LCD, & Weather and Dust Resistant Body from Pentax.
Didn't find exactly what you were looking for? Then, simply choose a product category from the Computers list below to find more great deals, including available discounts.
Computers